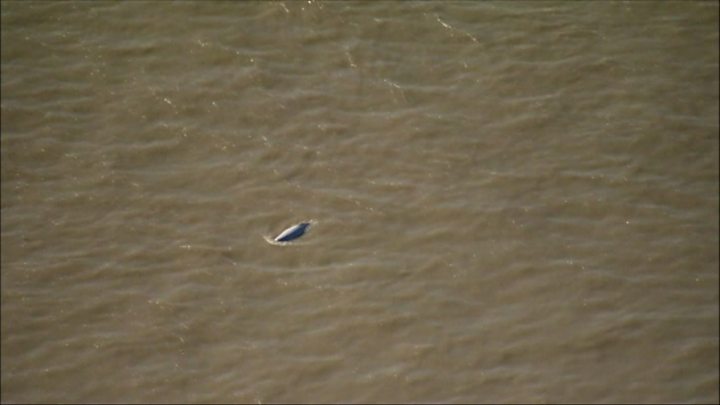 A beluga whale seen in the Thames for a second day is "swimming strongly and feeding normally", the RSPCA has said.
The animal welfare charity said the whale, nicknamed Benny, had moved towards the estuary, and there were no major concerns for its welfare.
It was first spotted around barges in the Thames on Tuesday near Gravesend.
Rescue teams have been on standby in case the animal, which is normally found thousands of miles away in the Arctic, gets into danger.
RSPCA spokeswoman Clare Dew said: "It appears to be feeding normally – it is not attempting to come anywhere near the banks and it is staying in the deep channel in the middle of the river."
Conservationists said they hoped its instincts would soon kick in, and it would head out of the estuary and back north.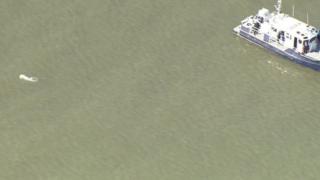 Ships in the river were being urged to keep clear, and the public has been asked not to take to the water to watch it.
Beluga whales can grow up to 20ft in length and are usually at home in the icy waters around Greenland, Svalbard or the Barents Sea.
'Lost its way'
A spokeswoman for the British Divers Marine Life Rescue said it was sending a team to Gravesend to assess the whale's condition.
Julia Cable, national co-ordinator for the conservation charity, said: "It's possible that it lost its way after a navigational error, that it has taken a wrong turn. We haven't got an idea about the health of the animal."
Lucy Babey, head of science and conservation at Orca, a marine conservation charity, said: "This is the most southerly recording of a beluga in the UK.
"These animals can navigate in shallow coastal water so hopefully it will swim away."
She said any noise in the water could impair its sophisticated sonar navigation system.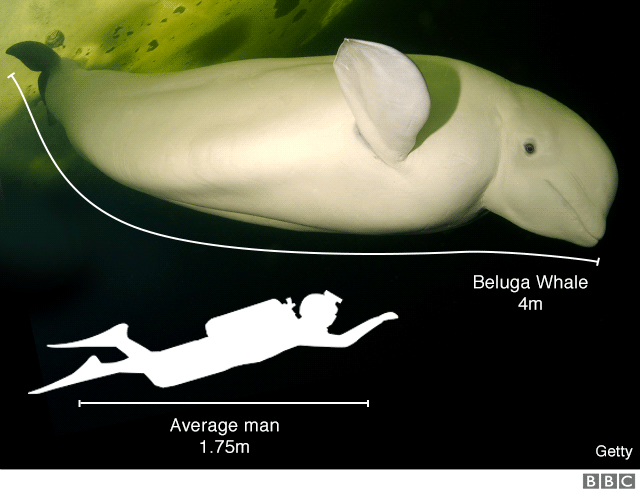 Tanya Ferry, environment manager at the Port of London Authority which is monitoring the whale, said the number of plastic bags in the River Thames could become an issue for the whale.
"We're hoping if we give it enough space and keep an eye on it, it will find its own way out of the Thames to an environment that's more appropriate for it.
"We certainly don't want people trying to rescue it."
Can you beluga it? Your reaction to whale in Thames
Beluga whales were last spotted in the UK three years ago off the coast of Northumberland and Northern Ireland, but sightings were "extremely rare", the British Divers Marine Life Rescue said.
In 2006, an 18ft (5m) northern bottle-nosed whale died after becoming stranded in the Thames.
The RSPCA said: "We are working with other agencies to monitor the situation and ready to provide appropriate assistance if requested."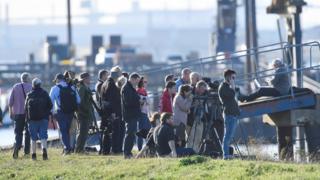 ---
What is a beluga whale?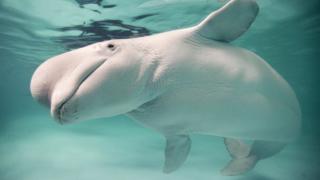 Belugas, also known as white whales, are "one of the most familiar and easily distinguishable" of all whales, according to National Geographic.
They range from 13ft (3.9m) to 20ft (6.1m) in length and have distinctive rounded foreheads.
Belugas are commonly found in coastal waters of the Arctic Ocean, but are also at home in large rivers. They can move between salt and fresh water.
They are common to Alaska, Russia, Canada, and Greenland.
The whales were nicknamed "canaries of the sea" by early whalers due to their squeaks and squawks.
Beluga calls variously resemble a cork being prized from a bottle or a creaking door, along with sounds described as clicks, squeaks, chirps, bleats, moans, groans, and whistles.
Read more: https://www.bbc.co.uk/news/uk-england-kent-45649502