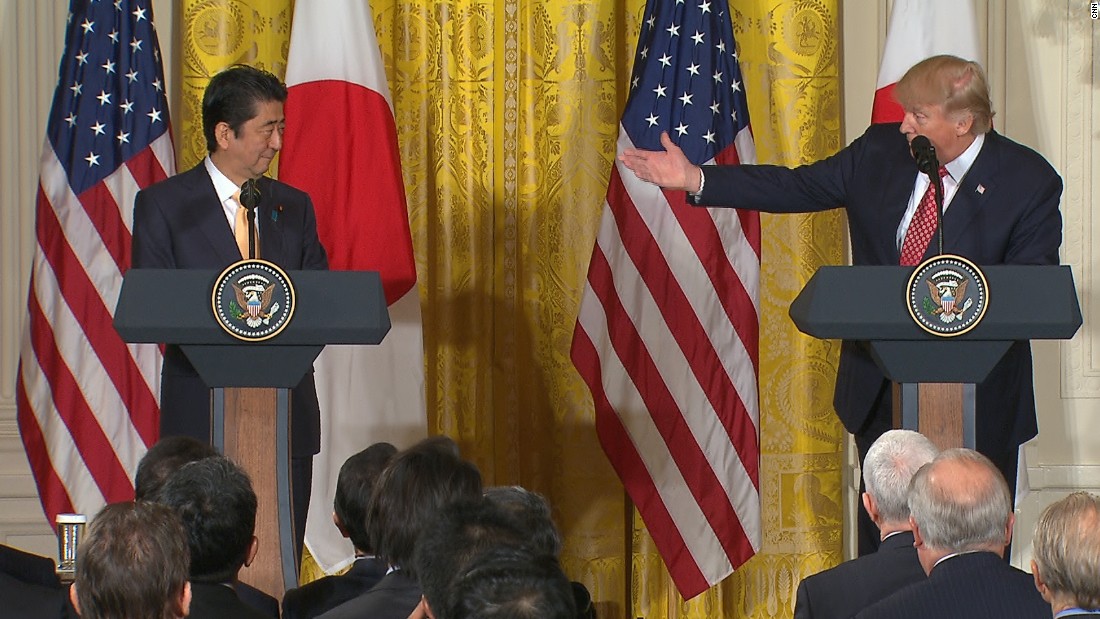 Washington (CNN)President Donald Trump now has his own Asia pivot.
In less than 24 hours, Trump distanced himself from the incendiary tone he struck on China and Japan while running for office.
Acting more as a statesman than a populist insurgent candidate, Trump implied he will operate within the conventional US foreign policy framework towards Asia and soothed global fears that he intends a wholesale rejection of the international system.
Trump reaffirmed the two central planks of US Asia policy that have prevailed for decades during a phone call with Chinese President Xi Jinping late Thursday and in welcoming Japanese Prime Minister Shinzo Abe to Washington Friday.
He pledged to Xi that he would respect the "One China" policy under which the US doesn't grant diplomatic recognition to Taiwan — which is regarded by Beijing as a renegade province — despite earlier warning that he might use the issue as leverage in trade talks.
The President renewed US security guarantees to its Northeast Asian ally, including those that cover an island chain that is administered by Japan, which calls it the Senkakus, and claimed by China, which uses the name Diaoyu.
Washington and Tokyo said that they would both invest in defense, but Japanese Foreign Ministry spokesman Norio Maruyama said that the issue of Japan paying the US more for its security shield and basing American troops on its soil did not come up.
"There was not mention about cost sharing at this stage," said Maruyama. "We consider this an issue that belongs to the past."
A senior administration official did not dispute the difference between Trump's campaign trail and presidential positions.
But the official rejected the notion that the new administration was simply adopting strategies pursued by previous White Houses — especially those in the "pivot to Asia" strategy of President Barack Obama. The aide noted that Trump had already pulled the United States out of the Trans-Pacific Partnership — a huge multilateral trade deal at the centerpiece of Obama's Asia rebalance that Trump believes would move American jobs to low-wage economies abroad.
"I certainly think it is pretty different from what we have seen in the last eight years," the official said, speaking on condition of anonymity.
"The President is not interested in a flawed, counterproductive trade deal that was the centerpiece of Obama policies," the official continued. "He is engaging in what any responsible new President would do in the both the Xi call and the Abe visit: expanding relationships with significant world leaders."
The administration's evolution on Asia policy does not mean it's going to be smooth sailing from here on.
Tensions are certain to bubble up between Washington and Beijing over the latter's expanding military role and projection of power around the world. China, for its part, wants the US to recommit to the Paris treaty on climate change signed under Obama.
And trade disputes are likely to batter the relations between the US and the two Northeast Asian rivals, especially since Trump made their economic practices such a large part of his political rhetoric.
But for American allies — and even adversaries like China — that may seem far more like business as usual from Trump than they expected during his fiery presidential campaign.
Read more: http://www.cnn.com/2017/02/10/politics/trump-abe-xi-washington-visit/index.html