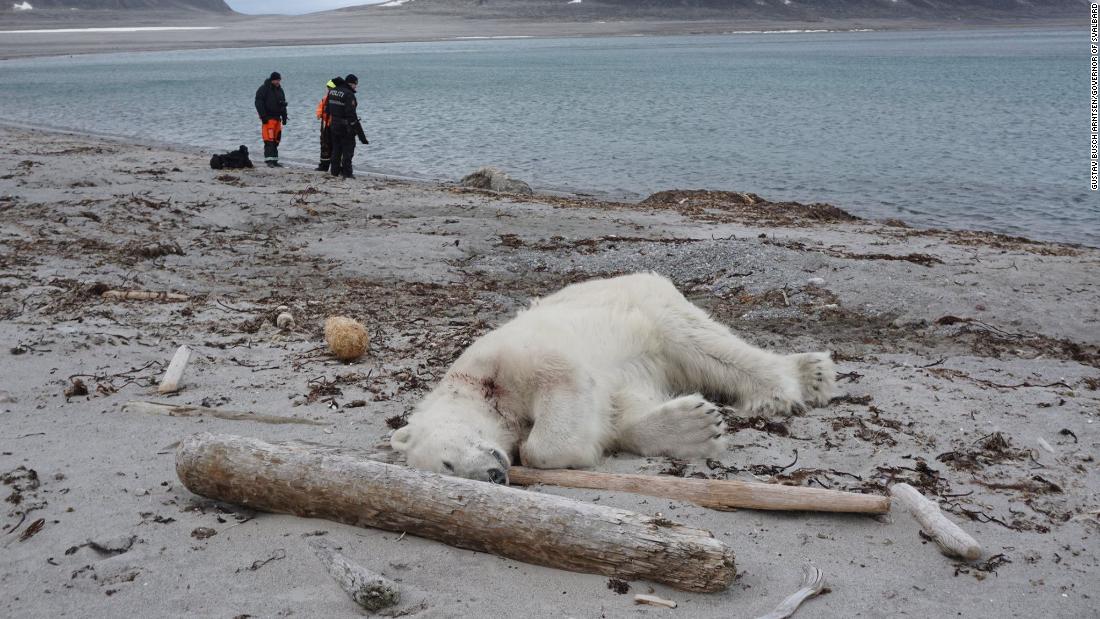 (CNN)A German cruise line is facing outrage after one of its employees shot and killed a wild polar bear in Norway after the animal attacked another of its employees.
The guard suffered non-life-threatening head injuries and was airlifted out, Hapag-Lloyd Cruises said in a statement on
Facebook
.
"The incident occurred when the four-person polar bear guard team, who are always on board for these expedition cruises as required by law, prepared for a shore leave," the company said.
However, they failed to spot one bear, who attacked one of the guards, the cruise line said. The other guards shot the bear after trying unsuccessfully to evict the animal, the company said.
"There had to be intervention for reasons of self-defense and to protect the life of the attacked person," the company said. "We are extremely sorry that this incident has happened."
"It's incredibly tragic," said wildlife conservationist Jeff Corwin on CNN Sunday. "When there's only 25,000 polar bears left on the planet, every one matters.
"When you are in this ecosystem as a tourist, as an explorer or as a scientist, you have the responsibility to follow the protocols to ensure that you stay safe and that you don't interfere with the wild behavior of polar bears."
Online reaction to the episode has been highly critical.
In its Facebook statement, Hapag-Lloyd Cruises notes that landings on Spitsbergen are only possible in a few places and these are not done for polar bear observation.
"Polar bears are only observed from aboard ships, from a safe distance," the company says.
"Due to the risk of meeting polar bears visitors traveling in Svalbard must always have firearms and protection devices at hand, such as a big-game rifle and ammunition for self-defense, flare gun or an emergency signal flare pen for driving off polar bears and tripwire with flares for camping," its online cruise handbook states.
"Do remember that it is prohibited to follow, seek out or lure polar bears. This
great predator
has little respect for humans and dangerous situations can easily arise if people get too close," says the NPI, Norway's central governmental institution for scientific research in the Arctic. "Almost every year a polar bear is killed in Svalbard after confrontations with humans or because of safety perspective in the settlements."
The 3,000 or so polar bears living on the main island of the Svalbard archipelago outnumber humans, according to the Norwegian government.
Read more: https://www.cnn.com/2018/07/29/world/polar-bear-killed-norway-cruise-guard-attacked/index.html