Post
Google Xs raison dtre is embracing far-out ideas, so its no surprise, really that former director Mike Cassidy iswading into the decidedly choppy and always controversial waters of nuclear energy.
Cassidy, whose most recent tenure at Google found him heading up the company balloon-based internet initiative Project Loon, has been quietly working on launching Apollo Fusion.The company is a new energystartup working to develop revolutionary hybrid reactor technology with fusion power to serve safe, clean, and affordable electricity to everyone. (Its also apparently the name of a racing bike. Go figure.)
The companys recently updated site opens with the words Lets quietly redefine whats possible, which seems to describe its launch strategy as much as anything. Bloomberg, which first noticed the new information, notes that, until a few days ago, Apollo Fusions site simply sported a definition of nuclear fusion, and not much else.
Of course, nuclear power is still a going concern, albeit less eagerly embraced than during its salad days. In October of last year, the U.S. opened a nuclear reactor in Tennessee its first new one in 20 years. And a number of companies like Transatomic and UPower are promising safe new alternatives to the nuclear power of decades past. The new technologies, coupled with ever-increasing concerns about climate change, have caused many to reconsider nuclear energy as a potential alternative.
As its name implies, Cassidys solution is fusion-based, following in the footsteps of companies like the Jeff Bezos-backed TriAlpha Energy and Helion Energy. Fusion, which fuses together rather than splits atoms, is considered safer than the more traditional fission, including less waste created as a byproduct.There also isnt the same risk of meltdown.
Various versions of fusion technologies have been the subject of undelivered promises for decades, including, notably cold fusion. That was debunked shortly after it was first proposed in the late-1980s.
Cassidy himself doesnt appear ready to offer up much more information on the subject, though he did acknowledge what may likely be an uphill battle in the recognition of nuclear energy as a viable alternative power source.
Environmentalists have struggled for a while over whether nuclear power is good or bad, he told Bloomberg in an otherwise decidedly limited conversation. I think most of the more thoughtful environmentalists now view nuclear as good. If you can find a way to do nuclear power that doesnt have the downsides, the risky, runaway meltdowns, or things like that, its a real win for the planet.
Its no surprise, of course, that the site features a prominent declaration of safety for the companys technology. The site explains, Apollo Fusion hybrid power plants are designed for zero-consequence outcomes to loss of cooling or loss of control scenarios and they cannot melt down.
After all, for many, notions of nuclear power still elicit troubling images of tragedy, bolstered by recent events like 2011s Fukushima disaster. Public opinions dont appear to be trending in a positive direction, either. A Gallup poll from roughly this time last year notes that, for the first time (since the poll was launched in the mid-1990s), a majority of Americans oppose nuclear energy,at 54 percent.
At the very least, its hard to imagine too many Americans feeling comfortable with a plant opening in their backyard.
Apollos site ticks off other boxes as well, including emission-free production and inexpensive construction and operation. And, the site adds, Because theyre inherently safe, Apollo Fusion power plants can be nestled in the communities they serve, to make power right where customers need it.
Again, likely an uphill sell, no matter how safe the new technology is stated to be. Still, Cassidy says the companys tech has already won over a few key players: namely, Larry Page and Sergey Brin, both of whom are reportedly super enthusiastic about Apollos work, though neither currently count themselves among backers of the company.
Read more: https://techcrunch.com/2017/04/03/googles-project-loon-head-is-getting-into-nuclear-power/
Post
War of words between neighbours prompts defence experts to express fears of accident in region spiralling out of control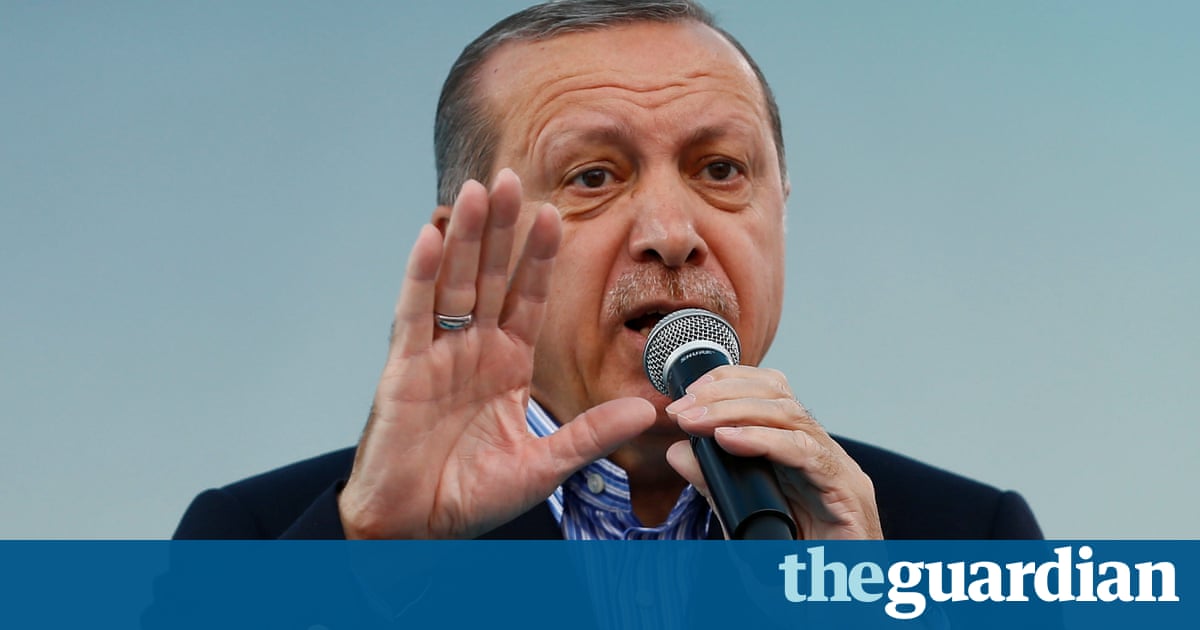 Fears of tensions mounting in the Aegean and eastern Mediterranean Seas reignited after the Turkish president raised the prospect of a referendum on accession talks with the EU and the Greek defence minister said the country was ready for any provocation.
Relations between Ankara and European capitals have worsened before the highly charged vote on 16 April on expanding the powers of the Turkish president, Recep Tayyip Erdoan.
Western allies have argued that a vote endorsing the proposed constitutional change would invest the Turkish leader with unparalleled authority and limit checks and balances at a time when they fear he is exhibiting worrying signs of authoritarianism. Erdoan has been enraged by recent bans on visiting Turkish officials rallying yes supporters in Germany and the Netherlands.
Highlighting growing friction between Ankara and the bloc, he raised the spectre of a public vote on EU membership at the weekend.
We have a referendum on 16 April. After that we may hold a Brexit-like referendum on the [EU] negotiations, Erdoan told a Turkish-UK forum attended by the British foreign secretary, Boris Johnson. No matter what our nation decides we will obey it. It should be known that our patience, tested in the face of attitudes displayed by some European countries, has limits.
The animus reinforced last week when the leader said he would continue labelling European politicians Nazis if they continued calling him a dictator has also animated tensions between Greece and Turkey, and Erdoans comments came hours after the Greek defence minister said armed forces were ready to respond in the event of the countrys sovereignty and territorial integrity being threatened.
The Greek armed forces are ready to answer any provocation, Panos Kammenos declared at a military parade marking the 196th anniversary of Greeces war of liberation against Ottoman Turkish rule. We are ready because that is how we defend peace.
Although Nato allies, the two neighbours clashed over Cyprus in 1974 and almost came to war over an uninhabited Aegean isle in 1996. Hostility has been rising in both areas, with the Greek Cypriot president, Nicos Anastasiades, recently voicing fears of Turkey sparking a hot incident in the run-up to the referendum.
I fear the period from now until the referendum in Turkey, as well as the effort to create a climate of fanaticism within Turkish society, he told CNN Greece.
Turkeys EU negotiations have long been hindered by Cyprus, and talks aimed at reuniting its estranged Greek and Turkish communities are at a critical juncture but have stalled and are unlikely to move until after the referendum.
But it is in the Aegean where tensions, matched by an increasingly ugly war of words, have been at their worst. After a tense standoff over eight military officers who escaped to Greece after the abortive coup against Erdoan last July an impasse exacerbated when the Greek supreme court rejected a request for their extradition hostility has been measured in almost daily dogfights between armed jets and naval incursions of Greek waters by Turkish research vessels.
Both have prompted diplomats and defence experts to express fears of an accident at a time when experienced staff officers and pilots have been sidelined in the purges that have taken place since the attempted coup. The shaky migration deal signed between the EU and Turkey to thwart the flow of refugees into the continent has only added to the pressure.
The concern on the Greek side is not so much of an intentional incident but of an accident that then spirals out of control, Dr Thanos Dokos, director of the Eliamep thinktank, told the Guardian. The whole nationalist mood in Turkey would make such a situation difficult to defuse.
Mindful of the nationalist vote that he will need to win the referendum, Erdoan has questioned the validity of the Lausanne treaty delineating the two countries borders after the catastrophic defeat by Turkish forces of the invading Greek army in 1922.
The Turkish nationalist opposition leader, Devlet Baheli, has gone even further, claiming that several Greek islands are under occupation and reacting furiously when Kammenos visited the far-flung isle of Oinousses.
Someone must explain to this spoiled brat not to try our patience, he railed. If they [the Greeks] want to fall into the sea again, if they want to be hunted down, they are welcome, the Turkish army is ready. Someone must explain to the Greek government what happened in 1922. If there is no one to explain it to them, we can come like a bullet across the Aegean and teach them history all over again.
With the rhetoric at such heights, Greek officials worry that any further distancing of Turkey from Europe will spell disaster if a crisis were to occur. Donald Trumps announcement that he loved the Greeks at a ceremony marking Greek Independence Day has done little to deflect fears that in the confusion and chaos besetting his administration Athens could depend on Washington.
Greece has expressed its concerns to the US, said Dokos. But when we dont have a fully functional national security apparatus in Washington which is usually the firefighter in such situations, when Natos influence is limited and the EUs even less, the big question really is who could or would manage such a crisis if it were to happen.
Read more: https://www.theguardian.com/world/2017/mar/27/tensions-flare-greece-turkey-answer-provocation-erdogan