Post
Rory Riley-Topping went public on Wednesday with her claim that Hunter groped her at a dinner party in 2014.
Riley-Topping, who was then the staff director for the House Veterans' Affairs Committee, claims Hunter grabbed her buttocks at the event, an annual affair organized by the National Republican Congressional Committee.
"Duncan Hunter had clearly appeared intoxicated and came up to me and said he wanted to speak to me about Agent Orange, which was an issue the committee was dealing with at the time," Riley-Topping told Russian state TV station RT.
"I said I'm happy to reach out to your staff and follow up on that. He leaned into me very closely and said, 'No, I want to talk to you,' and I felt very uncomfortable and tried to back up and he reached around and put his hand on my behind and said, 'Let me give you my cellphone number,'" she continued.
RT was the first outlet to report on the harassment allegation. Riley-Topping told CNN that a personal friend who works as an anchor on the channel had encouraged her to appear on the network to tell her story.
Riley-Topping said she pushed Hunter away from her after the alleged groping and immediately approached Rep. Jon Runyan (R-N.J.), a member of the committee, and told him what had transpired.
"This is gross. This is what happened: Duncan Hunter just grabbed my ass. I don't want to be here anymore," she recalled telling Runyan, according to CNN.
Riley-Topping, who is now a consultant specializing in veteran law, said she left her position on the committee "shortly thereafter because it was not an environment that I felt comfortable working in after that."
Neither Hunter nor Runyan, who has since retired from Congress, has spoken publicly about the alleged incident. Hunter's office did not immediately respond to an after-hours request for comment.
Hunter has come under scrutiny in recent months for alleged financial misconduct and other questionable behavior.
The 42-year-old congressman and his wife were indicted last August on charges of conspiracy, wire fraud and falsification of records after allegedly spending a quarter-million dollars in campaign funds to pay for vacations and other personal expenses ― and then submitting false reports to the Federal Election Commission to cover up their misdeeds.
The congressman has pleaded not guilty to the federal charges; but his wife, Margaret Hunter, who had initially also denied wrongdoing in the case switched her plea earlier this month to guilty. Hunter has since been accused of throwing his wife under the bus.
In court filings on Monday, prosecutors described how Hunter allegedly used campaign funds to "pursue a series of intimate personal relationships" with five women, including three lobbyists.
"All of the women with whom Hunter pursued these relationships were involved in politics in some manner, and Hunter sometimes met or socialized with them in professional settings," prosecutors wrote, according to The Daily Beast. "Evidence of the intimate, entirely personal quality of Hunter's specific encounters with these women is essential to demonstrate that his spending to facilitate those encounters was improper."
Hunter, a Marine veteran, recently also faced criticism for saying his unit "killed probably hundreds of civilians" during his 2004 tour in Iraq.
Hunter, who was defending Eddie Gallagher, a Navy SEAL who has been accused of war crimes, told Barstool Sports' Zero Blog Thirty podcast that his unit "probably killed women and children, if there were any left in the city when we invaded."
"So do I get judged too?" the congressman asked.
Hunter had earlier admitted to posing for a photo with an enemy combatant's corpse while serving in the Marines ― as Gallagher allegedly had.
"I've taken pictures just like that when I was overseas," he said at a May town hall. "Didn't text them to anybody, didn't put them on Facebook or Instagram, but a lot of my peers, a lot of us have done the exact same thing."
REAL LIFE. REAL NEWS. REAL VOICES.
Help us tell more of the stories that matter from voices that too often remain unheard.
Read more: https://www.huffpost.com/entry/duncan-hunter-groping-allegation_n_5d142d40e4b09ad014fa6fb9
Post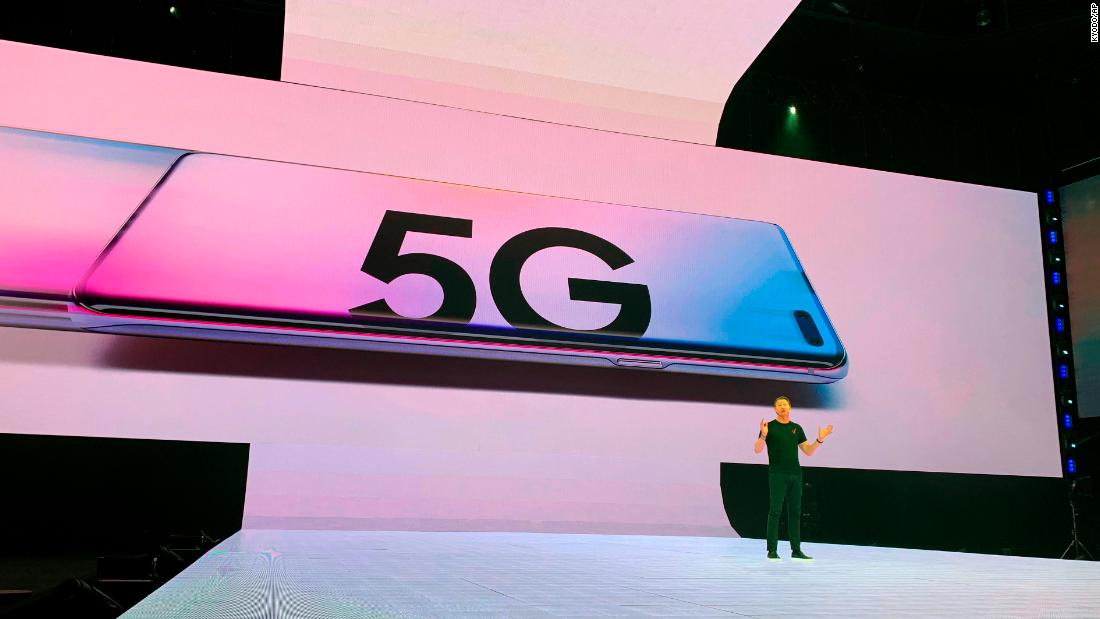 New York (CNN Business)5G isn't just about faster speeds for your smartphone. It will usher in a wave of new technology that will power the future. First responders in particular are excited about 5G's potential.
Although first responders are optimistic about 5G's potential, the new technology comes with a host of privacy concerns.
How first responders will use 5G
At a Verizon 5G event this week, New Yorkfirefighters and police got to see 5G in action.
One company, Kiana Analytics, tracks the movements of people within an airport by detecting them through their devices and analyzes the patterns for suspicious activity. Kiana works with the Department of Homeland Security to gain access to maps of the airports and other data it needs to run its services. Kiana's CEO and co-founder Nader Fathi said it currently works on Wi-Fi, and the company is testing it on 5G.
Another company, Qwake Technologies, uses augmented reality
to outline the environment
firefighters are seeing in the dark while they fight fires. Firefighters on the scene wear the thermal cameras and the data gets transmitted back to command.
Mike Ralston, head of strategy and product management at Qwake said this could help firefighters coordinate when there are multiple fires in different rooms and a team has to split up.
"That's really where the… 5G story comes in," he said.
For first responders, it means the ability to leave the wires and cables at home and wear a headset on the go, taking more immediate action with live data of criminals, and being able to track locations or see more of a disaster through drones.
"To see augmented reality without being tethered to something, that's pretty cool," said Verizon's director of public sector product development Nick Nilan said.
Aerial Applications demonstrated examples of what it would look like to stream video from a field or the cloud to a base on 4G compared to 5G. The 4G footage looked blurry, while 5G was crisp.
"Until 5G rolls out, one of the primary pain points that we've been dealing with is the time of getting the data back." said Nathan Sullivan, chief technology officer at Aerial Applications. "Getting data back from the drone back to our data processing facilities over 4G today in full resolution just isn't possible. At 5G, we can do that."
"You're able to speed up," Former New York Police Commissioner Bill Bratton said in a speech to first responders on Monday.
Bratton described a prototype smart street light made by the company, ShotSpotter, that would be able to record everything happening on a street regularly, notify the NYPD of any gunshots, and even illuminate the ground more brightly when cops arrive. The street light would send out gunshot notifications, transmit video, and provide real-time information about the neighborhood. ShotSpotter did not respond to requests for comment.
"That's not 22nd century technology, but 21st century technology that will be readily available," he said.
Mobile 5G is currently limited. It is livein Chicago and Minneapolis via Verizon, and hotspot 5G
has availability in select cities via AT&T
, which owns CNN's parent company WarnerMedia. But that might change soon. Carriers are promising 5G will expand to dozens of cities this year.
"We are deploying very aggressively," said Ignal Elbaz, AT&T's senior executive vice president, during a separate UBS 5G summit on Monday.
Elbaz said he believes a network will need to support "a million to billion devices."
Privacy concerns
A speedier network will help police officers decipher the massive amounts of data recorded by city cameras. Machine learning will be able to analyze the data at a faster pace.
But massive data collection is controversial, and once 5G takes off, video footage could become clearer and crisper, as the low latency and higher bandwidth makes it possible to transmit higher quality video at faster speeds. Verizon responded in a statement, "Customer privacy is a top priority for our company. We follow very strict privacy guidelines."
The NYPD said it does not "engage in mass or random collection of facial records from NYPD camera systems, the internet or social media." Facial recognition images come from crime scenes and are compared to arrest photos from law enforcement records, according to the NYPD. San Francisco went a step further:
it banned facial recognition
from government use.
"Facial recognition is merely a lead; it is not a positive identification and it is not probable cause to arrest. No one has ever been arrested on the basis of a facial recognition match alone," Sergeant Jessica McRorie, an NYPD spokesperson, wrote in an email statement.
She noted that the NYPD has arrested a man for throwing urine at subway conductors, and another for pushing a passenger onto the tracks after investigating leads generated by facial recognition. It's also generally used fortackling homicides, rapes, robberies, and non-criminal activity like driving without a license.
The New York Civil Liberties Union, one of the groups that has voiced concern over the police's use of facial recognition in the past, said that it's still concerned. It points out that the NYPD has an app that streams real-time video and police can request to run images through the app for potential matches. It estimates that the NYPD has already used facial recognition in three thousand cases and sometimes employ haphazard methods.
First responders believe 5G could help them save lives faster. As they monitor us, civil liberties groups will monitor them on just how they use that technology.
Read more: https://www.cnn.com/2019/05/22/tech/5g-first-responders/index.html